There's so much to love about Brooklyn. Whether you come for the gorgeous views, the impeccable cuisine, the surplus of music, art, history, the diverse culture, the abundance of parks, or any other reason—living in Brooklyn is an experience like none other. If you're planning on selling, moving to Brooklyn, or just looking to upgrade your space, you must be up-to-date on the Brooklyn luxury real estate market trends. Fortunately, the
Riolo Team
has plenty of experience servicing the Brooklyn community and is here to give you the inside scoop.
Brooklyn real estate—specifically Brooklyn luxury real estate—has seen increasing demand over the past year. Many buyers, sellers, and renters wonder if the market will continue to trend in that same direction over the next year. Here's what you can expect from the Brooklyn luxury real estate market in 2022:
Demand for Brooklyn luxury real estate in 2022
Our experts believe that the high demand for luxury Brooklyn real estate—that we saw the previous year—will continue throughout 2022. There's a likely chance that the demand will surpass the supply this year. Though the demand will be high, we may not see as much intensity in the market as in 2021. The bidding war frenzy may begin to slow down as 2022 progresses, making buying easier than the previous year.
This demand may not be entirely upwards across the board. For instance, many landlords are raising the rent to pre-pandemic prices now that the virus is starting to slow its course. Because of this, many renters will begin looking into buying a home. For many luxury apartment renters, buying makes more sense fiscally than renting if rent prices increase in Brooklyn. This is especially true while interest rates for buying a home are still low. As many Brooklyn residents decide to become first-time homebuyers, more luxury apartments will begin to open up in Brooklyn, and renters will have an easier time finding a luxury rental this year.
The high demand for owning luxury Brooklyn real estate will continue to benefit sellers. Many sellers will receive the results they're hoping for when they sell their houses in 2022. If you're looking to move away from Brooklyn to a quieter suburb, such as
Westchester
, this year would be an excellent time to sell. Especially as many people who left the city during the pandemic may likely move back this year.
An emphasis on location
Overall, buyers will continue to flock to Brooklyn in 2022, though the demand intensity will depend on the neighborhood. Specific neighborhoods expect to see more eager buyers this year.
Park Slope
, Downtown Brooklyn, Cobble Hill, and Carroll Gardens will continue to experience a robust buying spree, while other Brooklyn neighborhoods may see more window-shoppers than transactions.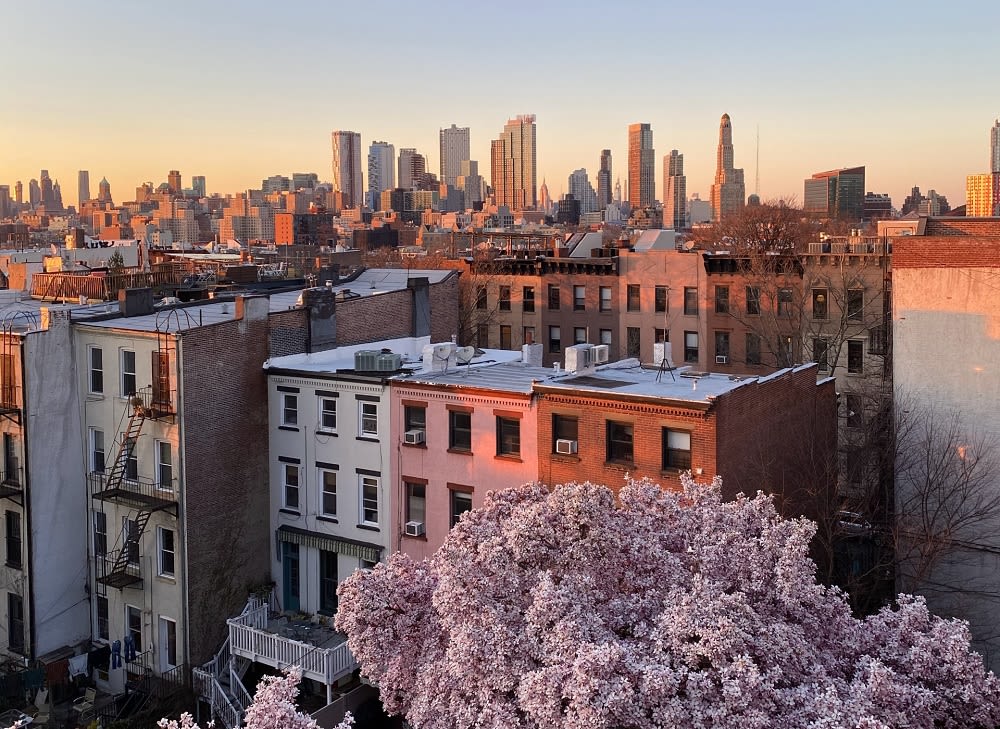 This is mainly due to what homebuyers are looking for in 2022. Homebuyers want space—both indoors and outdoors—and luxurious amenities. Neighborhoods with luxury properties will likely attract more buyers.
What will luxury home buyers look for?
As mentioned previously, the upward-trending demand in 2022 will more apply to some Brooklyn luxury real estate areas than others. This year, properties with trending luxury qualities will be the hot commodities in Brooklyn real estate.
Luxury condos and townhouses will dominate the market over co-ops this year. Co-ops have been on a downward trend for the past few years. This is mainly because most co-ops can't compete with the luxury amenities of new or renovated condos, nor can they compete with the space provided by townhouses. This isn't to say that if you plan on selling your co-op this year, it will sit stagnant on the market, just that you won't see the same kind of attention you would if you were to sell a townhouse or condo.
Co-ops' redeeming qualities are that many of them are in desirable locations. If all of the luxury condos or townhouses in prime neighborhoods are caught up in buyer's bidding wars this year, buyers will have to determine what they value more—location or amenities.
On the other hand, the sale of townhouses has been on an upward trend over the past year, which will continue throughout 2022. The COVID-19 pandemic has introduced a new golden age of townhouse sales in Brooklyn and other luxury New York City neighborhoods. Homebuyers in the city have begun to value space and the privacy that a townhouse offers. Townhouse owners and potential buyers should be aware that townhouse sales will continue to rise throughout 2022—especially in highly sought-after downtown neighborhoods. The selling price for townhouses will likely reach an all-time high this year.
Another aspect of townhouses that many buyers will be looking for is outdoor space. Modern city-dwellers value fresh air and green space, and sellers will benefit from having some outdoor space to offer.
Market trends for Brooklyn luxury real estate in 2022
Brooklyn's real estate market has remained strong throughout the COVID-19 pandemic—stronger than Manhattan's, in fact. Brooklyn's steady real estate market power is only expected to continue. As Brooklyn's economic figures and job growth remain high, so will the market. Unless there is an unforeseen market crash in 2022, Brooklyn's luxury real estate will continue with the same strength over the last few years.
We'll also start to see more pricing stability as 2022 continues. This is primarily due to the pandemic slowing its course. This pricing stability will make 2022 a better year to buy in Brooklyn than the previous year.
2022 will be a prime time to sell as well. You won't see many buyers' low-balling prices due to the pandemic mindset. This will make for steadier sales that still yield optimal results.
Buying or selling in Brooklyn this year?
Whether you've decided to leave your Brooklyn property or are ready to own property in Brooklyn, 2022 has potential for buyers and sellers this year. For sellers, you'll do well if you have a property in a prime location, a townhouse, or luxury amenities. Having any of these three will make your property a hot seller in 2022.
You'll have to determine what you value most in a property. Whether it's location, space, architecture, amenities, etc., knowing what you're looking for in a Brooklyn property will help you make the smartest bidding and buying decisions. While the bidding wars won't be as chaotic as in 2021, there will still be some competition in the buyer's market. There's no foresight of when this competition will slow down, so waiting longer than 2022 to buy may not do you any good.
If you are ready to buy or sell in Brooklyn this year, The Riolo Team can help. With our depth of market knowledge and our dedication to client satisfaction, our team will get you the results you want.
Contact us
to see how we can make your real estate dreams come true.