Brooklyn
, known for its exciting sports teams, live music, and East River waterfront, is one of the most popular boroughs of New York City. If you are lucky enough to own one of the in-demand Brooklyn homes, from sky-scraping penthouses to stylish row houses, you already know that you live in one of the most vibrant parts of the country.
If you don't, you may want to make plans to visit the area or start your search for Brooklyn real estate. Whether you already live in the area or are
considering a move
, you should know that Brooklyn has a reputation for world-class eateries with all kinds of cuisine. Here is a guide to some of the best to make your reservations.
Nura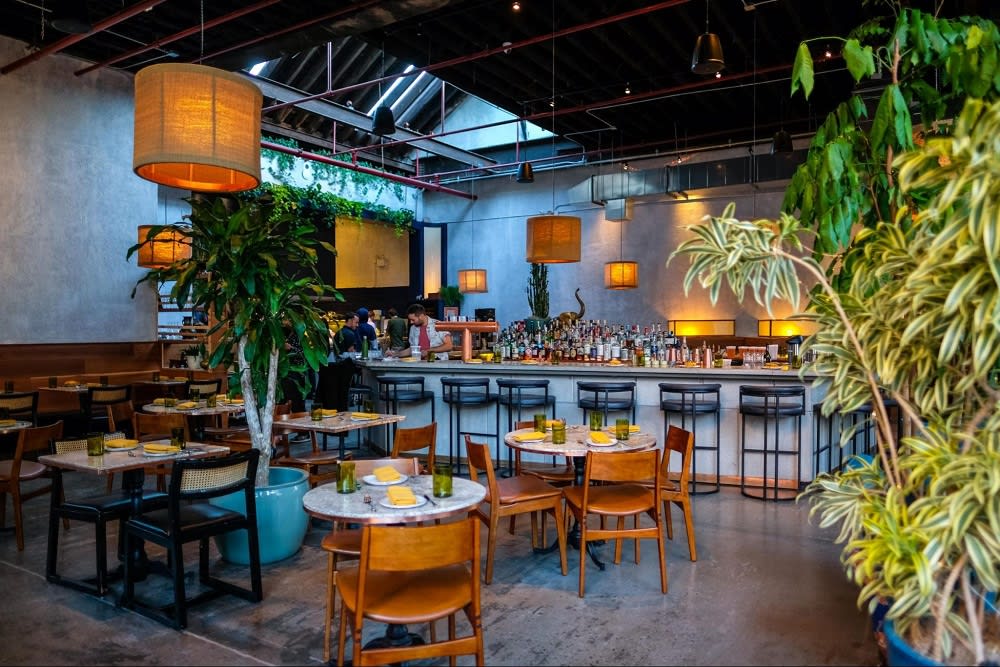 Photo courtesy of bkmag.com
Where other than Brooklyn could you expect to find a plant-filled restaurant in a former auto repair shop with a menu centered around bread?
Nura
, which opened in October of 2021, has a bright and lively space with an open kitchen where diners watch as their food is prepared. Make sure you order the "
Breads & Dips
" (garlic coriander naan and dill Parker House rolls served with spring pea hummus, house-made yogurt, and spiced carrots with white beans) and pair it with some squid, green chorizo lamb kofta, or sweet potatoes. Order wine by the glass or one of the restaurant's signature cocktails like the "Wandering Eye" (mezcal, passionfruit sherry, and Salers) to enhance your dinner.
Nura is also open for brunch and features exceptional wines and cocktails, granola dishes, full American breakfasts, and fun options from "sea-sar" salad to red curry pork and coconut grits. Brunch is served on weekends from 11:00 a.m. to 3:00 p.m.
Dept of Culture
With a menu inspired by North-Central Nigerian cuisine, the
Dept of Culture
is set up to facilitate conversation and engagement with its communal seating and frequent story-telling performances by owner Ayo Balogun. If you're looking for a Nigerian-focused menu and some dialogue with your table-mates, look no further! With only 16 dining spots in the entire restaurant, you are sure to make some new acquaintances among the small fine-dining crowd.
Owners of Brooklyn homes who taste authentic Nigerian dishes should head to Dept of Culture and indulge in their three-course tasting menu (plus dessert!). Depending on when you go, you might expect to dine on spicy suya octopus, spicy pepper soup, or some Nigerian cheese. Plan on Ayo, also giving you some generous pours of wine to go with your meal. A record player spins some Nigerian tunes to amp up the ambiance.
Runner Up
A predominantly outdoor restaurant and wine bar that opened in the fall of 2021,
Runner Up
is the brainchild of Winner bakery owner and chef Daniel Eddy. Featuring fresh-baked bread from the bakery located next door, Runner Up offers eight indoor bar seats and their outdoor area, so you need to make reservations well in advance if you'd like to sit inside.
Whether you choose inside or outside, plan to start your meal with a "Smoke & Fire" cocktail (bourbon, vermouth, amaro, and bitters) or one of the restaurant's many beers or aperitifs. Then, order a small plate of duck toast or marinated squid before moving to an entrée of duck cassoulet or chicken and ricotta meatballs. Top it all off with a digestif or a dessert of sticky toffee pudding or chocolate and hazelnut pot de crème.
Winona's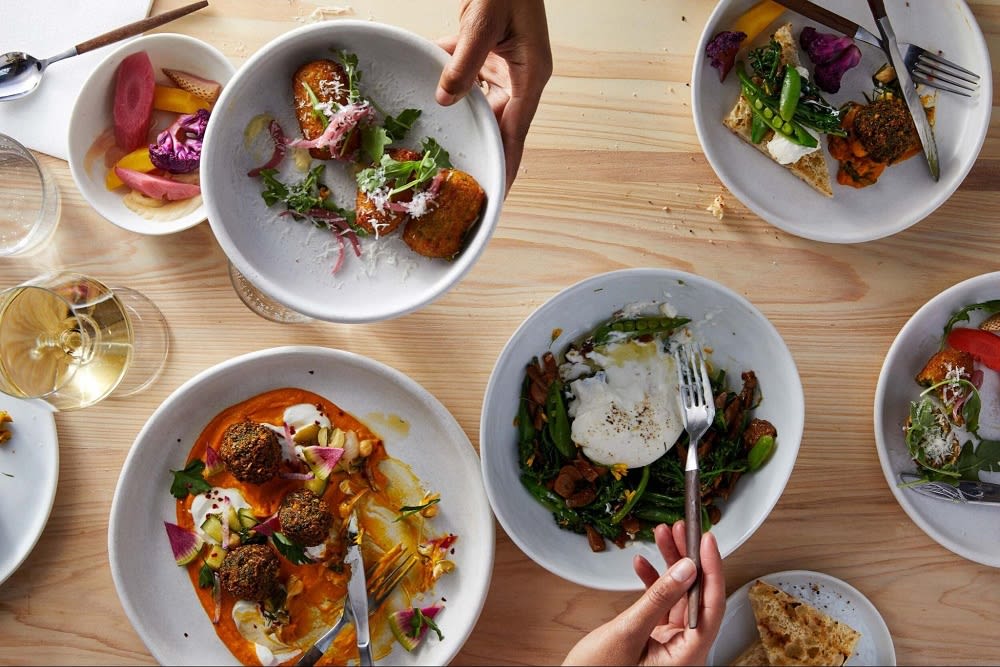 Photo courtesy of winonasbk.com
A natural wine bar that also serves breakfast, lunch, and dinner,
Winona's
is a family-run restaurant (named after the family dog) that has quickly become a favorite of those who live in nearby Brooklyn homes. If you're a wine connoisseur, you'll love the variety of sparkling, red, and white wines available by both the glass and the bottle from New York to all over the world. Along with wines, there are plenty of craft cocktails on the menu, whether you fancy a Café Old Fashioned bourbon or a Lavender Fields tequila.
Are you more of a breakfast eater than a wine drinker? No problem. Starting at 8 a.m., you can enjoy apple cider pancakes, Scotch eggs, or Greek yogurt with house-made granola from the café menu. Lunch begins at 11 a.m. and ends at 2 p.m. and includes chicken or sardine sandwiches, grilled cheese, soup, and endive salad. The dinner menu, served from 5 to11 p.m., features cuisines like steelhead trout Crudo, risotto, root vegetable stew, and braised ribs. For dessert, check out the fantastic olive oil cake or chocolate budino.
Aldama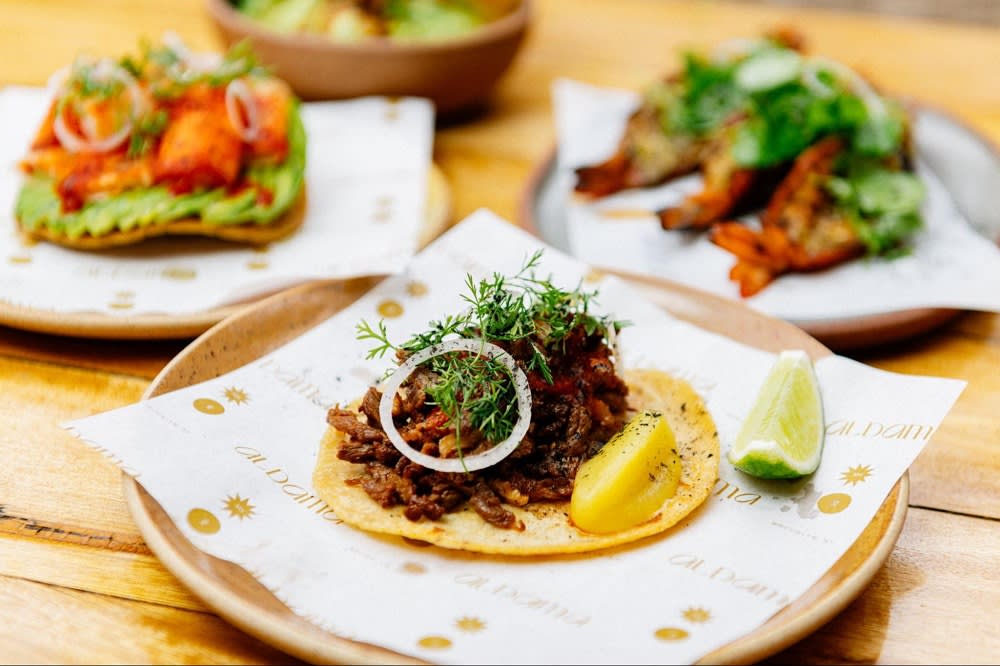 Photo courtesy of The Infatuation
If you're in town to check out some Brooklyn real estate and want to experience authentic Mexican food, make plans to dine at
Aldama
. Not only does this new eatery serve fantastic dishes like crispy tuna tacos, mouth-watering mole, and perfectly chunky guacamole, but it is also a lively bar packed with craft mezcal and tequila and helpful staff to assist you in selecting just the right type of cocktail and cuisine. Whether you're looking for a "Kai Tai" or pork belly tacos, you will find some food and drink to delight in. There are even some excellent vegan options on the menu for more inclusivity of tastes.
With its happy hour specials, weekend brunch, and casual yet trendy atmosphere, Aldama is a must-try. Aldama is open for dinner starting at 5 p.m. seven days a week and from 11 a.m. to 3 p.m. on Saturday and Sunday for brunch.
Fradei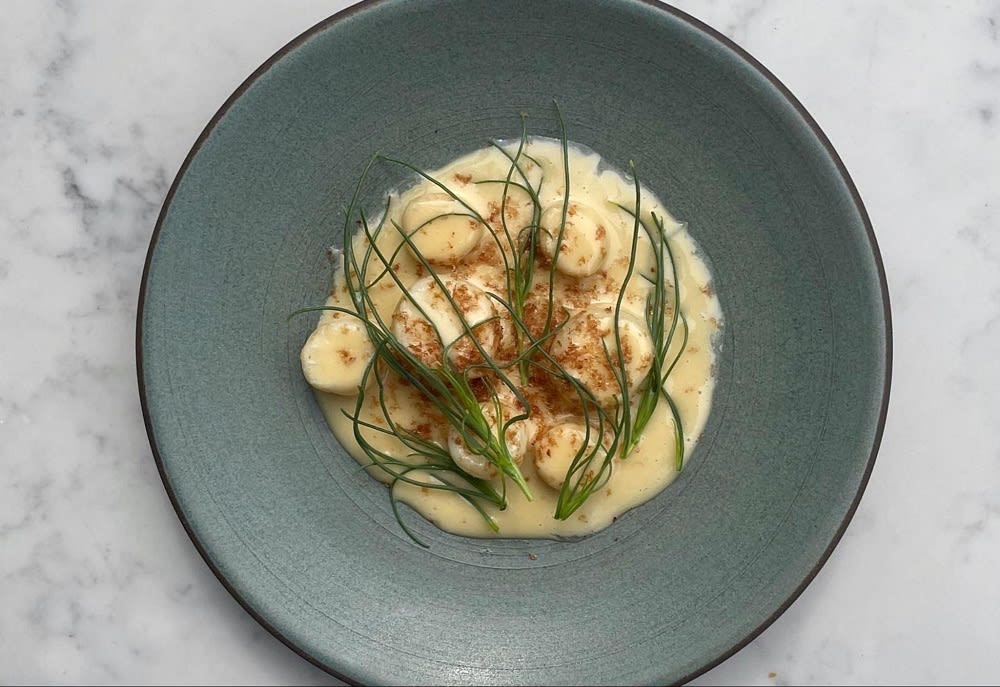 Photo courtesy of Fradei
There are a lot of wine bars to choose from within walking distance of Brooklyn homes, but not many offer a five-course tasting menu that changes every three weeks like
Fradei
. Sustainability-focused Fradei has been open since 2018, and chefs Sam Schwarz and Robbie Cox have always made a point to minimize ecological waste while building their menus with healthy, quality ingredients from trusted, responsible food sources. They reduce waste, buy from local farms that don't use hormones or antibiotics, and purchase ingredients from fair trade suppliers focused on the ethical treatment of animals.
Because the menu is ever-changing, you won't know what your tasting experience will be until you start eating it's always a surprise! However, check out the previous menus on the Fradei website to get an idea of their cuisines. Past menus suggest dishes like pork belly served with miso-infused jus, chicory and kumquats, cavatelli with fermented squash, Calabrian chili, pistachios, and longfin squid served with white daikon, green celery, almond, and verbena. Fradei offers excellent desserts to pair with your meal, including candied lemons, spice cake, and green chartreuse ice cream.
At Fradei, reservations are available 21 days ahead of time, so plan well in advance if you want to experience this unique dining venture.
Brooklyn has long been a hotspot for innovative dining experiences, and these six must-see restaurants just add to that reputation. Whether you're looking for a filling brunch, a light lunch, or a hearty dinner that will stick in your memory for years to come, you'll have a lot to choose from in this borough.
If you don't live in the Brooklyn area and want to find a home near all these fantastic new eateries, don't worry. Reach out to one of the trusted Brooklyn real estate agents at
The Riolo Team
for expert assistance in finding a home that meets your needs. You can
book an appointment today
to find the home (and the restaurants) you've been dreaming of!
*Header photo courtesy of nurabk.com