Preparing for Westchester County open houses can be both exciting and nerve-wracking as the first big step in selling your home.
It's exciting because if you've kept your home well-maintained and looking beautiful over the years, it puts you in the best position to sell your home in an optimal timeframe and at an optimal price.
But, it's still nerve-wracking. Will buyers truly fall in love with your house, or will their interest be tepid? Also, there could be a lot of buyers visiting your home in a short period of time, so you're going to have just one chance to make a great first impression.
There will be a long checklist of things to take care of before scheduling an
open house
. This includes many of the same things you would do to prepare your home to host private showings for potential buyers, such as decluttering, including removing personal items that could distract buyers; finishing any minor repairs or projects; giving your home a thorough cleaning; painting the walls for a fresh look; and arranging the furniture and décor so buyers are wowed the minute they come through the front door.
Reasons to host an open house
The COVID-19 pandemic has led to some significant changes in the way houses are bought and sold. There has been a big shift to online postings, which allow buyers to click through photos and descriptions of homes. Some people have even bought homes remotely without ever having seen them.
While online postings are certainly a factor in driving interest in Westchester County homes for sale, there's still something to be said for a traditional open house, which have now returned as state Covid guidelines have been relaxed due to improving numbers.
Safety remains be paramount.
The National Association of Realtors
issued suggested guidelines for hosting open houses during the pandemic. These include having fewer than 10 people touring a home at a time and asking them to maintain social distancing of at least six feet. You can also also have people sign a Covid-19 form, in which they verify whether they have traveled recently, are sick, or have been exposed to anyone who may be sick.
Hosting open houses
for Westchester County homes still makes sense since they can attract a large number of potential buyers in a short time. Buyers who are viewing a number of houses on the same day or weekend can schedule a private showing if your home has piqued their interest and they want a closer look.
The importance of working with an agent
Backing up just a bit, the first thing you need to do after deciding to list Westchester real estate is to engage a real estate agent with whom you feel comfortable and who has experience in the market..

Once you've settled on an agent who has gained your trust, it's time to roll up your sleeves and prepare your Westchester County home for an open house.
Prepare your home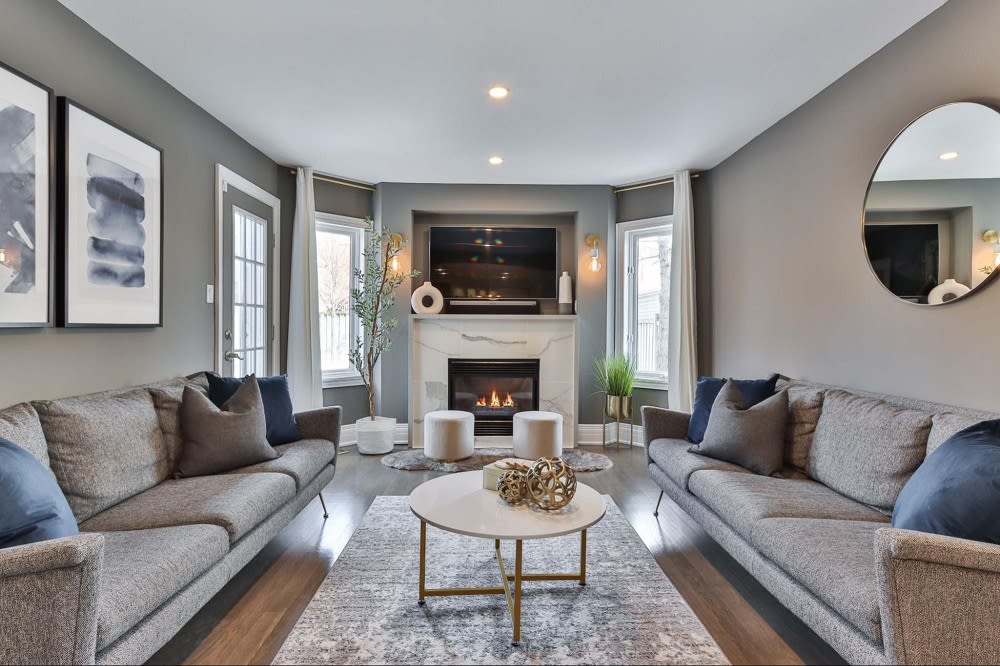 Go through your house and remove all personal items, such as family photos and anything else that is very specific to you or your family. Pare down your other belongings so your home looks spacious and inviting, not cluttered. A common rule of thumb is to try to remove at least half of the contents of closets, bathroom vanities, and any other built-in storage spaces where buyers will be poking and prodding.
Paint the main rooms in neutral or earth tones. Polish it off with a thorough cleaning.
Freshen up the landscaping in the front yard and clean up the porch and the rest of the property. Painting your front door can go a long way toward making your home stand out to buyers.
Schedule
When a Westchester County home for sale is prepped, your agent will list it and schedule the open house. Many agents list homes toward the end of the week in order to attract interest for open houses on Saturday or Sunday.
When the big day arrives
On the day of your Westchester County open house, turn on all of the lights and open the curtains so the home is as bright and cheery as possible. If the weather is nice, open the windows to let in some fresh air. Put any valuables such as jewelry and all medications in a safe, secure place. The agent can't keep an eye on every buyer all the time and, unfortunately, thieves have been known to target open houses.
Park your vehicles down the street in order to open up the garage and driveway. This lets buyers get a great, unobstructed view of your house as they drive up and they can check out the storage space they'd enjoy in the garage.
Remove all pets from Westchester County homes for sale. Not everyone is a cat or dog person.
Your agent will place a few signs around the neighborhood
advertising the open house
. They will also put an open house sign in front, in addition to the For Sale sign. Your agent will also advertise the open house in your online posting.
Just inside your house, make sure your agent has set up flyers, known as feature sheets, which include all of the important details about your home, such as square footage, amenities, special features, pricing, and some photos. This will allow buyers to compare your home with others they're touring that day and have something to refer to when they are making their decision.
When "go time" arrives for Westchester County open houses, you should plan to be elsewhere for the duration and leave things in the capable hands of your friendly, experienced agent. It is preferable for a seller not to be in the house while buyers are there, because it can create a level of discomfort for the buyer.
For the best advice on how to stage an open house for Westchester County luxury homes, let the
Riolo Team
put their vast experience to work for you.