There's no one-size-fits-all approach to staging a luxury home. Staging is all about creating an emotional connection for the buyer. When you stage a luxury home, you want to accentuate its most unique and luxurious qualities. Westchester County real estate features some of the most luxurious homes in the country, and if you're looking to sell one, it's essential to make sure it's market-ready.
Here are six tips for staging your home to perfection!
Create a welcoming environment
When people walk into your home, you want them to feel welcome. Emphasize the home's natural light and use neutral colors to effectuate a calming atmosphere. When deciding on furnishings, choose pieces that exude comfort and belonging. Even better, consider your five senses when staging the house. What can you do to make the property feel more tactile? What sounds could you play to make the space sound more peaceful? Think about baking a pie or cookies before showings. The smell of baked goods would make the house feel warm and welcoming. You can also use scented candles or diffusers for their pleasant aromas. Buyers will be more likely to linger in your home if it smells nice.
Westchester County real estate is all about designing a luxurious experience for the buyer. Area residents can take in the teeming downtown, eat at fine restaurants, and hit the beach all in the same afternoon. It can be tempting to go overboard with staging in such a vibrant setting, but remember that less is sometimes more. Take some time to make your home feel like a place anyone would want to call their own.
Think about the buyer's perspective
Potential buyers likely won't be familiar with the layout of your home. Even as they walk the premises, it can be challenging to visualize themselves living there. Help them out by emphasizing key features and handy aspects of the property.
In Westchester, homebuyers might be considering several types of opulent accommodations. Luxury condominiums, equestrian estates, and waterfront homes are all in play. With that in mind, what are your specific buyer's needs and wants? How can you make your property appeal to the people likely to see it?
When it comes to luxury Westchester County homes, buyers can be very particular. For one thing, make sure that your home is tidy and free of clutter. It's a good idea to remove any personal items that might make the buyer feel like they're intruding. You want buyers to focus on the home itself (and themselves), not your family photos or knick-knacks.
Sellers make another common mistake by cluttering up the space with too many furnishings. Keep it minimalistic (
which is on-trend
) and allow buyers to imagine how they would decorate the home themselves.
Highlight the home's features
Luxury homes frequently come with unique features that may be used to your benefit when staging the property. If your home has a great view of the Hudson River or the Long Island Sound, make sure to showcase it. If there's a beautiful pool, lawn, or patio area, that's worth highlighting.
When it comes to luxury Westchester County real estate, there's a healthy chance your prospective buyers already buy into the region's lifestyle and pastoral, woodsy geography. With that in mind, you want to make sure the buyer sees everything your home has to offer. Throughout the staging process, keep the focus on the home's features. Remember, use neutral colors and minimalistic furnishings to create a blank canvas that the buyer can imagine themselves painting their picture on.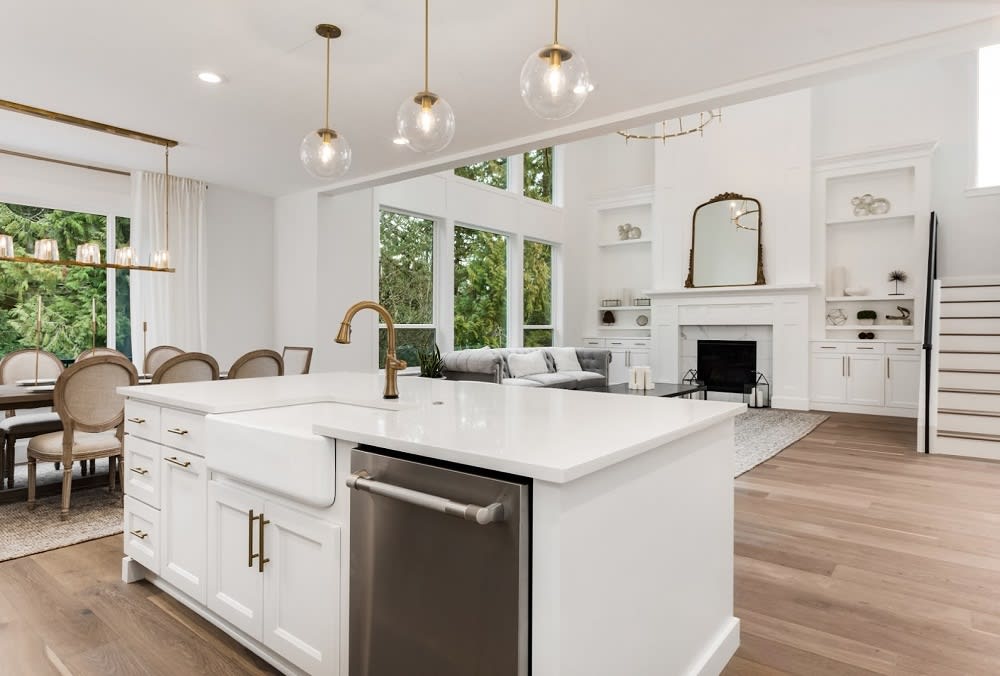 Open floor plans are another popular, longstanding trend in luxury properties, and the same applies to Westchester County homes. If your house has an open floor plan, showcase it by removing walls or furniture that might obstruct sightlines or passageways. Let the buyer see and feel how spacious and versatile the property is. Another way to highlight a home's decorative potential is by using lighting strategically. Make sure practically every square foot is well lit and that all the property structures are visible.
In the hours leading up to your open house, make sure the furniture has been rearranged to create open spaces and that all the rooms in the house bring something to the hypothetical table. It's worth the extra attention — open floor plans and fully-automated home environments are top features luxury home buyers are looking for.
De-personalize the space
As we mentioned before, potential buyers shouldn't focus on your personal belongings. Even if you are a direct descendant of Henry Hudson, de-personalize the entire space by removing family photos, family trees, and other personal items. This will go a long way in helping your new prospects visualize themselves living in the home.
Westchester County real estate is all about making a good impression. Buyers are more likely to make you an offer if they have begun to see themselves behind the welcome mat. So go ahead and paint over brightly-colored surfaces using a more neutral palette. Another experienced move is to maneuver large pieces of furniture to create smaller spaces. This technique can make certain rooms feel more intimate and cozy. In the same vein, positioning a dark leather sofa against a light wall can create a striking visual effect.
When it comes to luxury properties, every detail counts. Play with color, light, and furniture placement to create the perfect atmosphere for your home.
Stage each room separately
Each space should be treated individually, but you don't need to prepare every room in the house. It may be more beneficial to focus your efforts on the main living spaces. The goal is to make each area feel like its own entity and, at the same time, to create a flow from one room to the next.
If you have a lot of furniture, consider removing some of it to storage areas, if you have them, so that the living space feels bigger. You can also use rugs and accessories to designate different zones within a room — a great way to show off the home's potential. For example, in the living room, use a large rug to mark an area for seating. Or, in the main bedroom, you might use a canopy bed as a focal point.
Think about what each room is used for and how you can make their combined effect appeal to the buyer. A bedroom typically should be cozy and inviting, whereas a bathroom should be clean and probably also sophisticated and modern. But try to stick to the same style and color palette throughout the house. This will help create a sense of continuity throughout the home.
A luxury home buyer is looking for something unique or memorable in every room, so make sure that each one is attractive and well-organized.
Stage the kitchen and bathroom
The kitchen and bathroom(s) are among the most important rooms in any house. They both have a significant impact on the overall value of the property. Once you've upgraded your luxurious bathroom, recruit
one of Westchester County's top real estate agents
to highlight it in your listing.
Some
luxury bathroom features
in style right now include heated floors and towel racks, rainfall showerheads, steam showers, and oversized tubs. If you can make your bathroom stand out, you're more likely to sell your home quickly and at a higher price.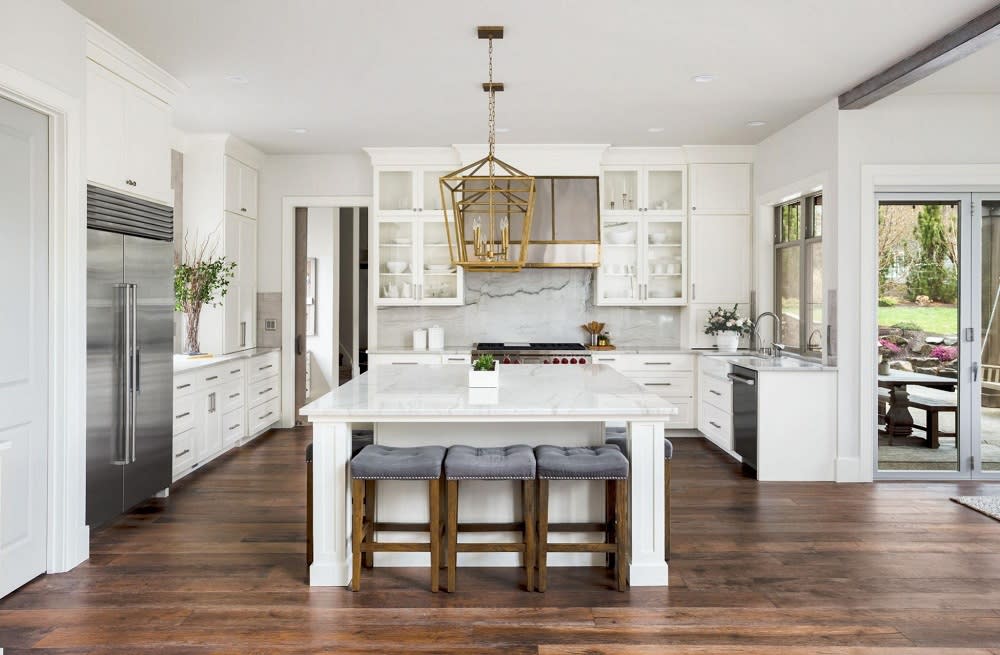 The same goes for the kitchen. A well-staged kitchen can be a major selling point for luxury homes. To that end, use high-end appliances and fixtures to foment luxury. If your home has elements like a breakfast nook or eat-in kitchen, you can certainly use these to your advantage. A breakfast nook, for example, is a great place to showcase a beautiful chandelier or pendant light. You can also use barstools and an island to create a more open, even casual feel.
These days, Westchester County homes are some of the most sought-after properties in the country. Sellers can typically
expect a 5-15% return
on their investment when they stage their house for sale. If you want to make sure your home stands out from the competition, an experienced real estate agent like those on the
Riolo Team
can help. They know what luxury home buyers are looking for and how to market your home to the right buyer. Contact them today to get started!