The
Brooklyn Bridge
is an iconic New York City landmark. Every year, hundreds of thousands of people walk, bike, and drive across the bridge that connects Lower Manhattan and Brooklyn. Crossing the bridge is something tourists and locals enjoy for the gorgeous views of the Manhattan skyline. And on the Brooklyn side of the bridge lies the historic neighborhood of Brooklyn Heights, which is known for many things, including its bustling dining scene.
Historic brownstones dot the streets of Brooklyn Heights and create the feeling of living in a small village, especially compared to the towering skyscrapers across the East River. Brooklyn Heights homes are perfect for growing families, young professionals, and retirees who want to live in a quiet neighborhood with stunning views and access to everything the city offers.


The Manhattan skyline is always within sight as residents explore
Brooklyn Bridge Park
while playing a game of pickleball on one of the sports courts, kayaking on the East River, or walking to a favorite local restaurant.
Restaurant owners delight residents with their chef-driven creations and fun atmospheres. Like most neighborhoods within New York City, there are many restaurants to choose from, but there are always a few standouts. Here are some must-try favorites in Brooklyn Heights.
Boutros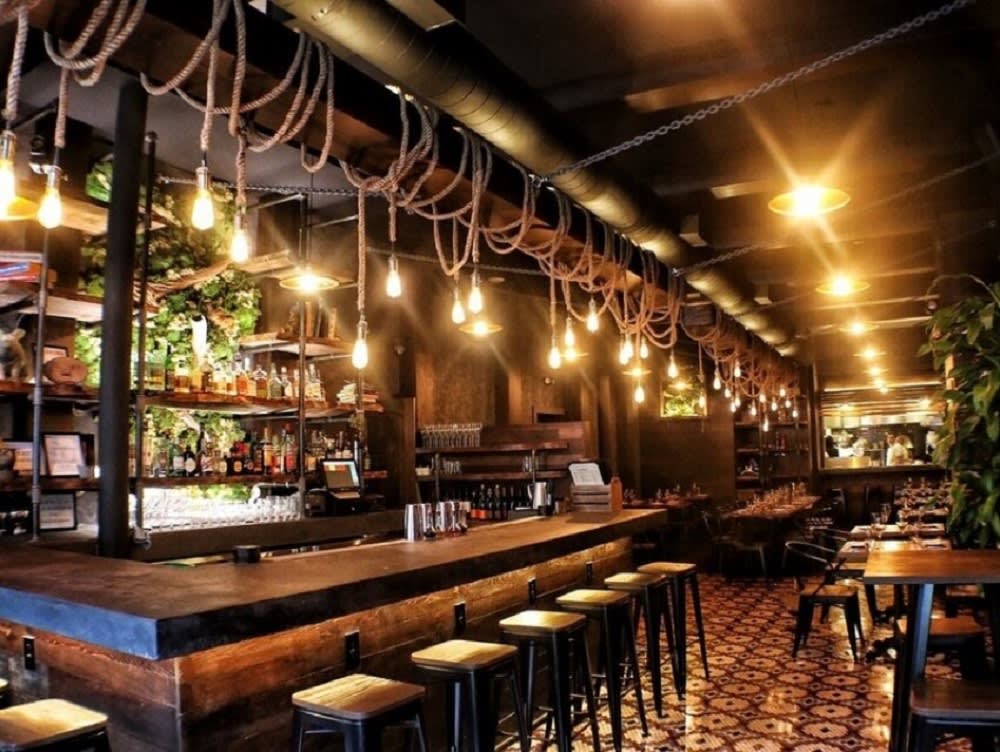 The menu at
Boutros
is just the beginning of a spectacular experience at this friendly and bustling restaurant. Owner and Chef Allen Dabagh's creative talents fuse Middle Eastern and American favorites, creating a delightful mixture. His combination of ingredients – like butternut squash with pepper and mint – is not something you will readily find elsewhere. The restaurant offers small and large plates, so guests may decide to try several dishes, such as the famous miso baba ghanoush or the short rib shawarma hummus served with homemade pita bread, before deciding on their favorite. The pita bread at Boutros has been called one of the best in the city, and the hand-crafted cocktails are the perfect way to begin your dining experience. If you are strolling around the neighborhood searching for Brooklyn Heights condos to call home, walk to Atlantic Avenue between Clinton and Court streets to explore this neighborhood favorite for lunch or dinner.
Henry's End
Residents of Brooklyn Heights have been in love with
Henry's End
since its establishment in 1973. There is a reason it has remained open and why locals love coming here: The atmosphere, the food, the wine selection, and the service are what you want from a fine-dining restaurant that still preserves a low-key, comfortable vibe. The menu changes with the seasons and includes many wild game selections for those wishing to expand their palates. It is definitely worth a return visit as the seasons change to see what additions have been made. The spring menu includes ferns with ramp butter, perfect for vegetarians, as well as a duck entrée with a strawberry and rhubarb accompaniment. There is an extensive wine list to choose from, along with a nice dessert menu. The restaurant is a popular establishment, so
reservations
are recommended before strolling down there during your Brooklyn Heights real estate hunt.
The River Cafe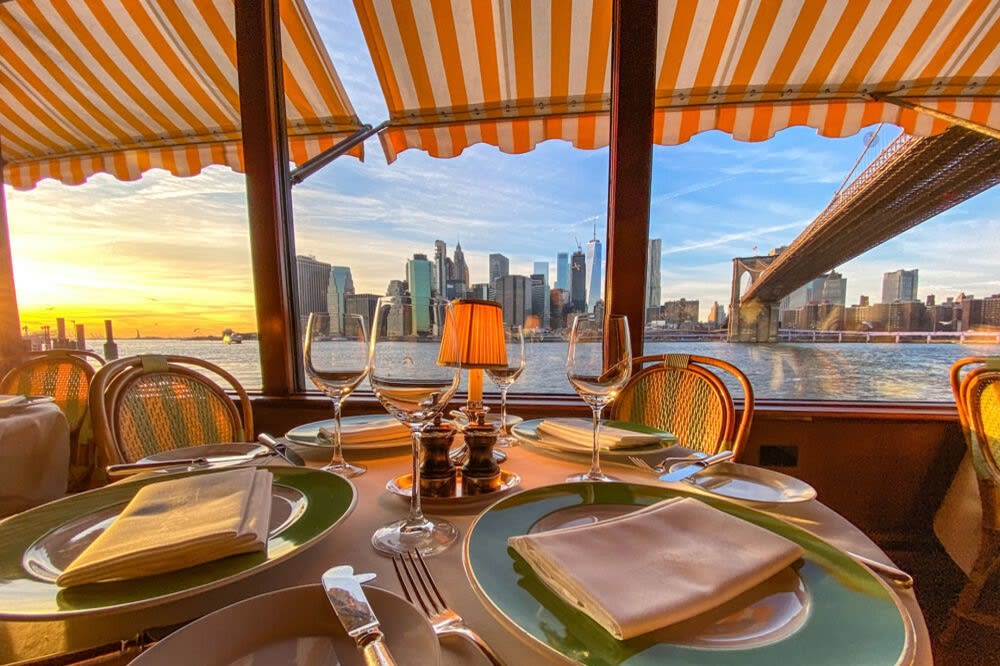 The best views of Manhattan are not actually in Manhattan.
The River Cafe
will prove this to you by offering an experience unlike any other. Cobblestone walkways lead to the river's edge as you are guided by the elegance of the lights glowing amongst the trees while the Brooklyn Bridge towers almost directly above you. Once inside the restaurant, tall windows provide you with a most spectacular view of Manhattan across the river. There is an air of elegance and sophistication throughout the dining room, from the white table linens to the bouquets of flowers. As you would expect,
reservations
do not come easy at this Michelin delight, with a three-course prix fixe meal priced at $180 per person. At The River Cafe, the dining experience is on par with the food. So, if you are planning to celebrate your next event at this restaurant, make sure to book a table beforehand.
Fornino Pier 6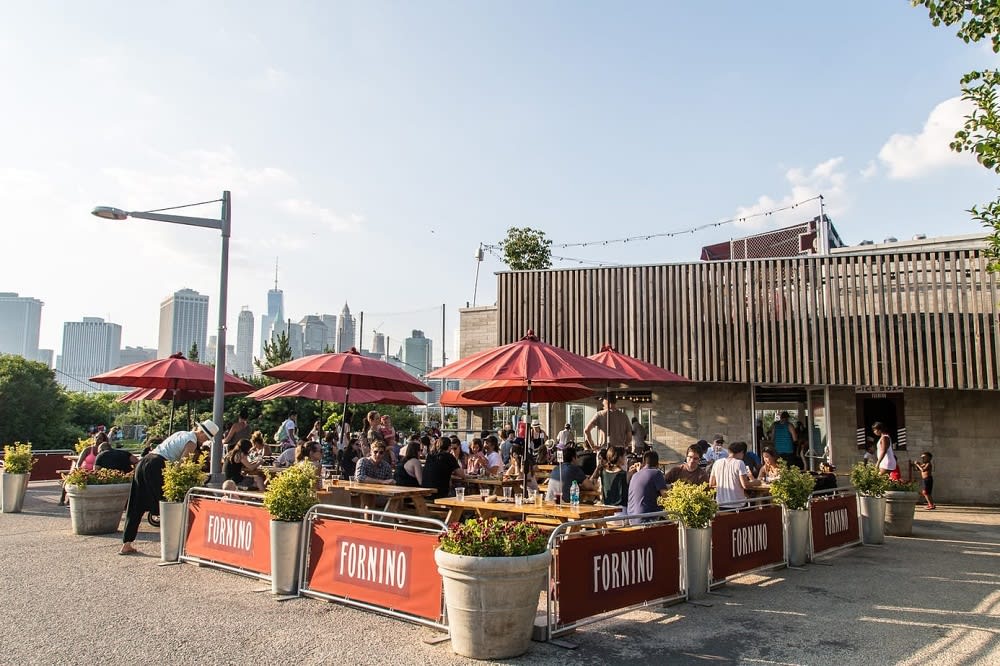 Photo courtesy of Stroller in the City
Cocktails and wood-fired pizza on a rooftop are what you will find at
Fornino Pier 6
, a pizza restaurant in Brooklyn Bridge Park. You will enjoy a laid-back atmosphere with a lively crowd during the warmer months of the year. Since all of the seating is outdoors, it is not typically open during the frigid wintertime. This is a fun place to meet up with friends and order a few different pizzas to share while watching a volleyball game. The sangria is made with seasonal fruits and is perfect for both white and red wine lovers. Salads, sandwiches, and a few appetizers are also available. The deck gets very crowded during the height of the summer months, so you may want to consider making
reservations
.
Brooklyn Ice Cream Factory
Who doesn't love ice cream, especially with a view of the iconic Brooklyn Bridge? While it is not really a restaurant, the
Brooklyn Ice Cream Factory
is a fun place to visit while searching for Brooklyn Heights homes if you have fallen in love with the neighborhood. Not only does the store know how to make the perfect ice cream cone, but specials like churro sundaes will make you a repeat customer. Enjoy your cone on Old Fulton Street while watching people-watching.
Laid-back, casual, and elegant are all descriptions of the restaurants you will find in Brooklyn Heights. The restaurant scene is varied here, giving Manhattan some competition. The dining options are especially welcome after you have spent a day touring Brooklyn Heights' many attractive brownstones, co-ops, and condos. If this historic neighborhood fascinates you,
The Riolo Team
will help you find the Brooklyn Heights real estate that will allow you to call these restaurants your new local favorites. Get in touch today to begin your home search in one New York's most sought-after neighborhoods.