Known for its fast-paced lifestyle, creative spirit, cultural diversity, and electric energy, people flock to New York City to pursue their dreams. When it comes to building a life or family in the city, there's no better place than Brooklyn, where the streets are open, and the neighborhoods give you a true residential feel while still being part of the hustle and bustle.

You'll appreciate the ability to walk everywhere, have close access to Manhattan, and get a strong sense of community right in the middle of the city. When searching Brooklyn, you can expect to find three dominant architectural styles: Victorian, Colonial, and Brownstone. With so many classic options amidst plenty of modern development, you're sure to find some Brooklyn real estate that fits your style.



Victorian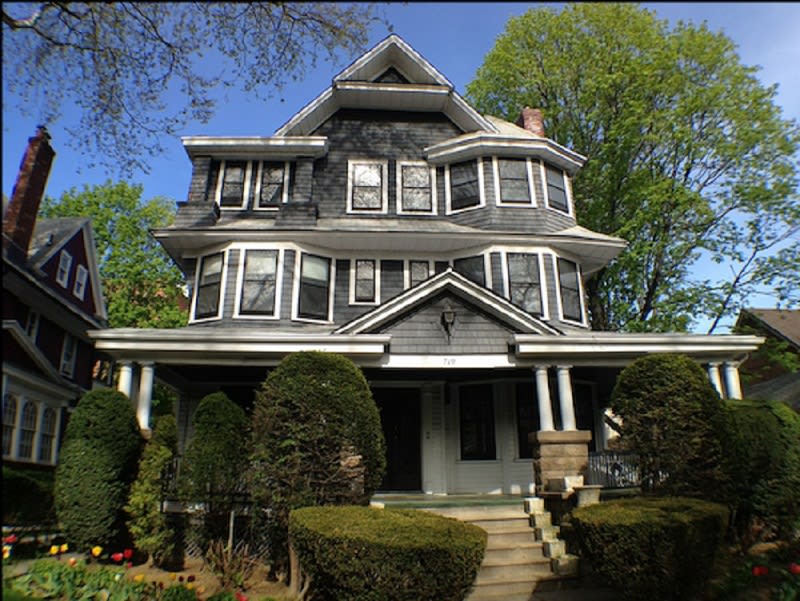 Credit: Brooklyn Eagle

Brooklyn is brimming with beautiful Victorian homes. In the late 19th-century and early 20th-century, Victorian homes began to pop up throughout the borough, and as Brooklyn expanded, developers produced many of the later Victorian homes which survive today. Victorian homes in Brooklyn typically include wood or stone exteriors, at least two levels, a complex asymmetrical structure, decorative trim, and a sharp roofline with towers. With that said, no two homes in Brooklyn are exactly alike. This is especially true with unique, ornate Victorian homes. In fact, there are different styles that fall under the umbrella of Victorian homes. The two styles you are most likely to see in Brooklyn are:
◾ While a Queen Anne home keeps with the traditional elements of Victorian style, there are some key differences. You'll immediately notice the difference in decorative themes a Queen Anne home utilizes, as it puts more focus on excess features to make it really stand out. You'll find a blend of textures and materials that are used on the exterior of the home, such as wood, stucco, brick, or stone. Additionally, rich colors are used to create contrast and dimension, and steepled turrets are attached to add to its eccentric design. A Queen Anne home will almost exclusively have an asymmetric layout, and you can expect to find a wrap-around balcony out front.
◾ Gothic Revival gets its name from Gothic architecture developed in 12th-century France. The most distinguishable characteristic of this type of home is the pointed arch it uses for doorways and windows. You can expect to find arches all over the exterior of Gothic Revival homes in Brooklyn, and the homes typically have steep, pitched roofs. Some of the most sought-after Gothic Revival homes have a roof that intersects with another section to create a cross-like shape. These sleek, sharp angles are what make a Gothic Revival unique.
Colonial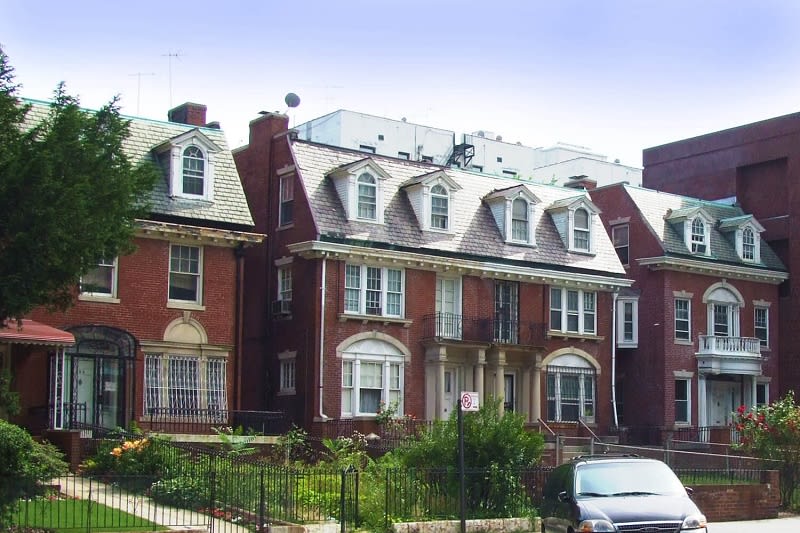 Credit: Brownstoner

Colonial homes are a classic example of American architecture. They are typically symmetrical with lots of windows and include a pop of color on the roof, front door, or shutters to create contrast with the white siding. Many have large front porches with pillars for both decoration and structure. Colonials are some of the most charming and elegant homes you'll find in Brooklyn, and the combination of classic, rural-inspired architecture with a bustling urban environment makes Brooklyn colonials unique.

Colonial homes in Brooklyn offer quality and elegance inside and out. The basic layout includes a spacious family room and kitchen on the main floor, with bedrooms on the second and third floors for privacy and functionality. Colonial homes almost always feature a fireplace (or two) and provide ample space to entertain, raise a family, or find respite in the middle of a city that never sleeps. These homes are perfectly proportioned for their lot space, and usually offer yard space—a rare treat in New York City.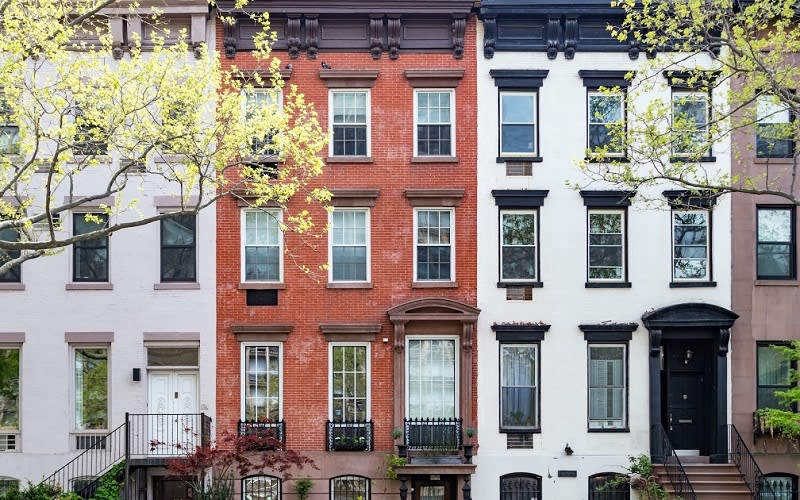 Brownstone
Perhaps the most common and characteristic type of architecture you'll find in Brooklyn is the Brownstone. These homes are similar to townhomes, except for the fact that they were constructed with brown sandstone. They are tall, beautiful buildings that have uniform exteriors and multiple stories. These homes utilize vertical space to maximize the value of your square footage, and living in a Brooklyn Brownstone means you get all the benefits of city living without compromising on space.

Brownstones are fantastic to live in thanks to their structure, aesthetic, and functionality. They offer tons of natural light from the windows at the front of the house, lots of space (thanks to their multiple floors), and easy access to the city. These homes will only increase in value and offer a variety of ways to make a return on your investment. Brownstone homes in Brooklyn are easy to rent out and do very well on websites like Airbnb, where you can offer short-term rentals to travelers. Additionally, if you're looking for a roommate, a Brownstone is a great option due to the space and privacy offered by its multiple floors. You won't feel as though you're crammed together and intruding on each other's space. Buying a Brooklyn Brownstone may be the best decision if you're a city-goer who loves their space—and wants options.


Brooklyn is overflowing with unique architecture that dates back to the late 19th-century, making it one of the most diverse boroughs in the city in terms of real estate. If you're looking for a real estate agent in the Brooklyn area, the local experts with the Riolo Team would be happy to help you kick-start your home-buying journey.