Westchester County is bursting with an incredible restaurant scene, many of which are perfect spots to enjoy a meal with the whole family. Let's dive into 12 of the top restaurants in Westchester County.
BeanRunner Cafe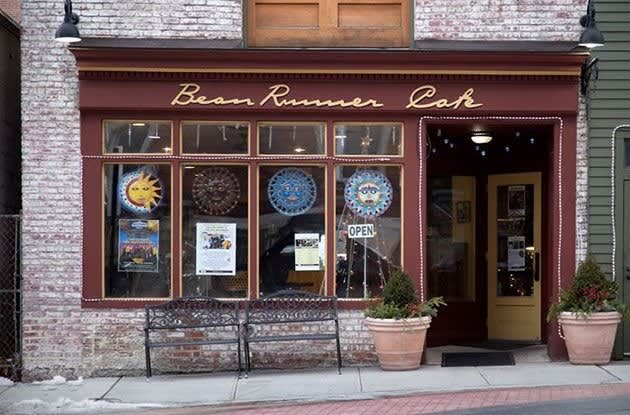 BeanRunner Cafe takes a running start in the Peekskill neighborhood. Once an abandoned building with historic roots dating back to 1850, owners Ted Bitter and Drew Claxton saw its potential. After extensive restoration, the couple brought the old wagon repair and blacksmith shop back to life and opened BeanRunner Cafe in 2008. Offering a menu of delicious breakfast sandwiches and omelets, loaded sandwiches, pizza, and even smoothies, beer, and wine, BeanRunner Cafe is the local spot for great food and even better service.
Menu items are named using track and field terminology to back relate to its name, and they feature a special "Junior Games for Kids" menu with simple sandwiches and smaller portions. This neighborhood favorite cafe is perfect for the whole family, as they offer something for all ages and host live musicians every Friday and Saturday evening.
201 South Division Street,
Peekskill, NY
Seven Lakes Station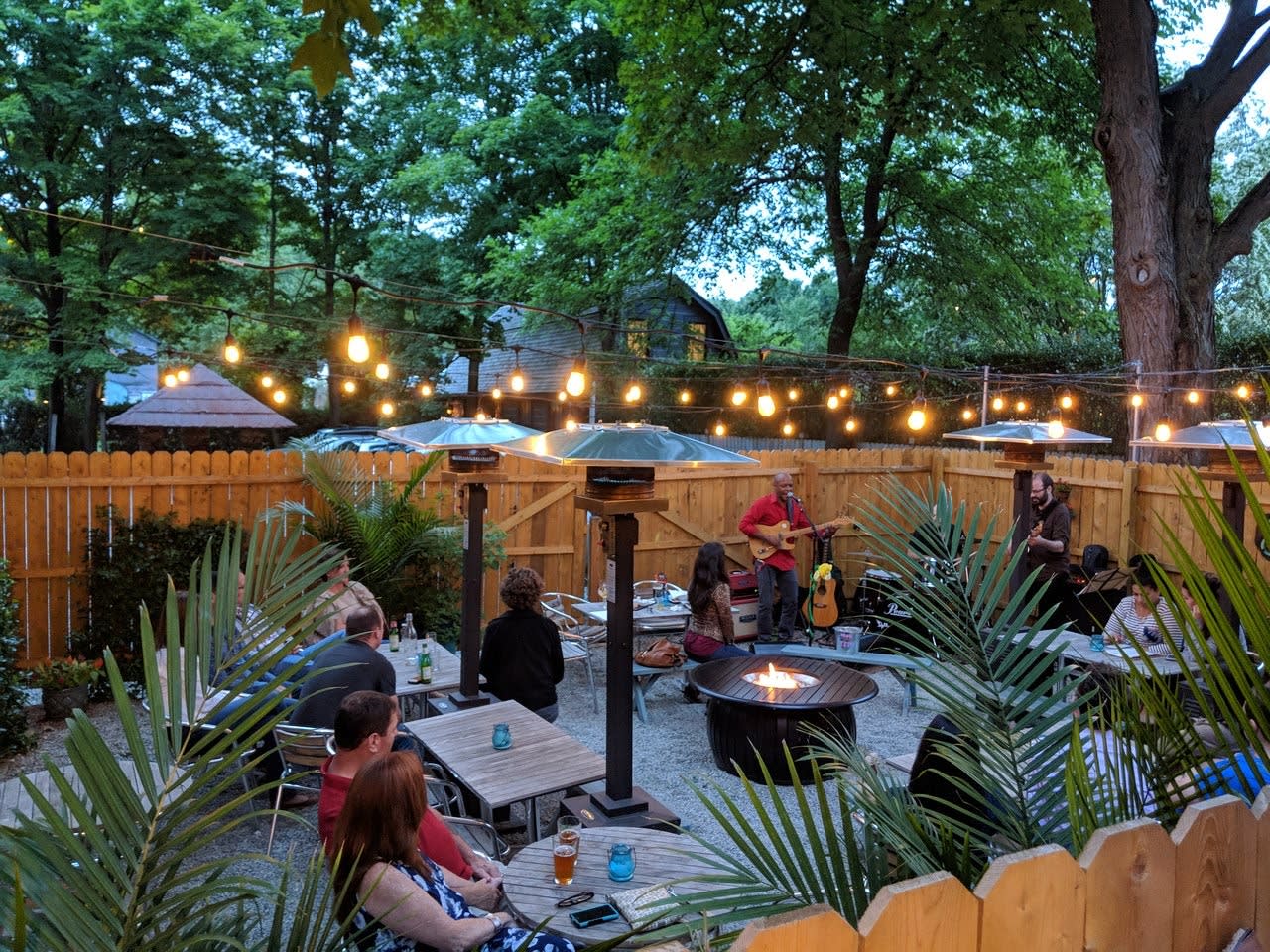 After spending the day at Harriman State Park, bring the family to Seven Lakes Station for excellent food, craft beer for the grown-ups, craft soda for the kids, and an outdoor dining area. While there is no designated kid's menu, there are plenty of "kid-approved" items on the menu, like a classic burger and fries and chili. This taproom even has a few tricks to entertain families — ask for their collection of Matchbox cars or the assortment of card games to turn your evening out into a family game night! The ideal destination to unwind after an active day at the park, Seven Lakes Station is a satisfying experience for the whole family.
80 Orange Turnpike
Sloatsburg, NY
Hudson Social
Visit Hudson Social, an ideal family destination, to enjoy fantastic food and even better views along the Dobbs Ferry waterfront. With expansive indoor and outdoor dining spaces, Hudson Social is tucked in the old Dobbs Ferry train station house, conveniently around the corner from the beautiful Waterfront Park. The perfect restaurant to visit after a long afternoon at the park, Hudson Social offers kid-friendly meals like chicken fingers, fries, and mini cheeseburgers, and features a special weekend brunch menu with vanilla spice French toast, pretzel bites, and burgers.
11 Station Plaza
Dobbs Ferry, NY
Sal's Pizzeria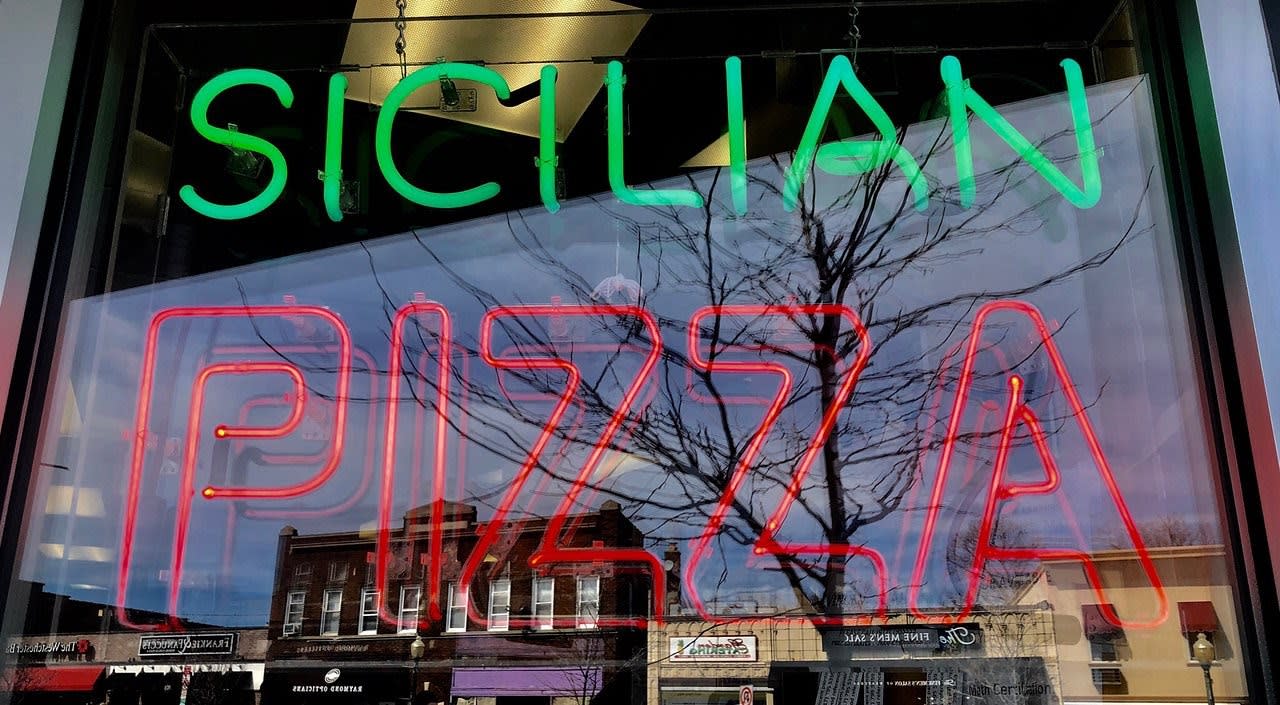 Kids and pizza: you can't go wrong when you combine the two, so a visit to Sal's Pizzeria in Mamaroneck is the perfect place to bring the entire family for piping-hot pies and huge portions. Enjoy their famous Sicilian pizza, or try one of the authentic and hearty pasta dishes. There are no wrong choices at Sal's and for families with picky eaters; it's the ideal restaurant, thanks to the varied menu with endless options. A family-friendly institution for over 50 years, Sal's offers authentic Italian comfort food with the best cheesy and greasy slices around!
316 Mamaroneck Avenue
Mamaroneck, NY
Birdsall House
The Birdsall House opened its 2,000 square-foot beer garden in 2011, offering tons of space for families to enjoy a meal together. With an extensive beer and cocktail menus for the adults, most ranging from local craft breweries and revolving cocktail specials, the kids can also enjoy mini burgers and mac-and-cheese for lunch, brunch, or dinner. Birdsall House is a fun, casual spot to enjoy the warm weather, and come together with friends and family for delicious, gastropub food and drinks in Peekskill.
970 Main Street
Peekskill, NY
Bartaco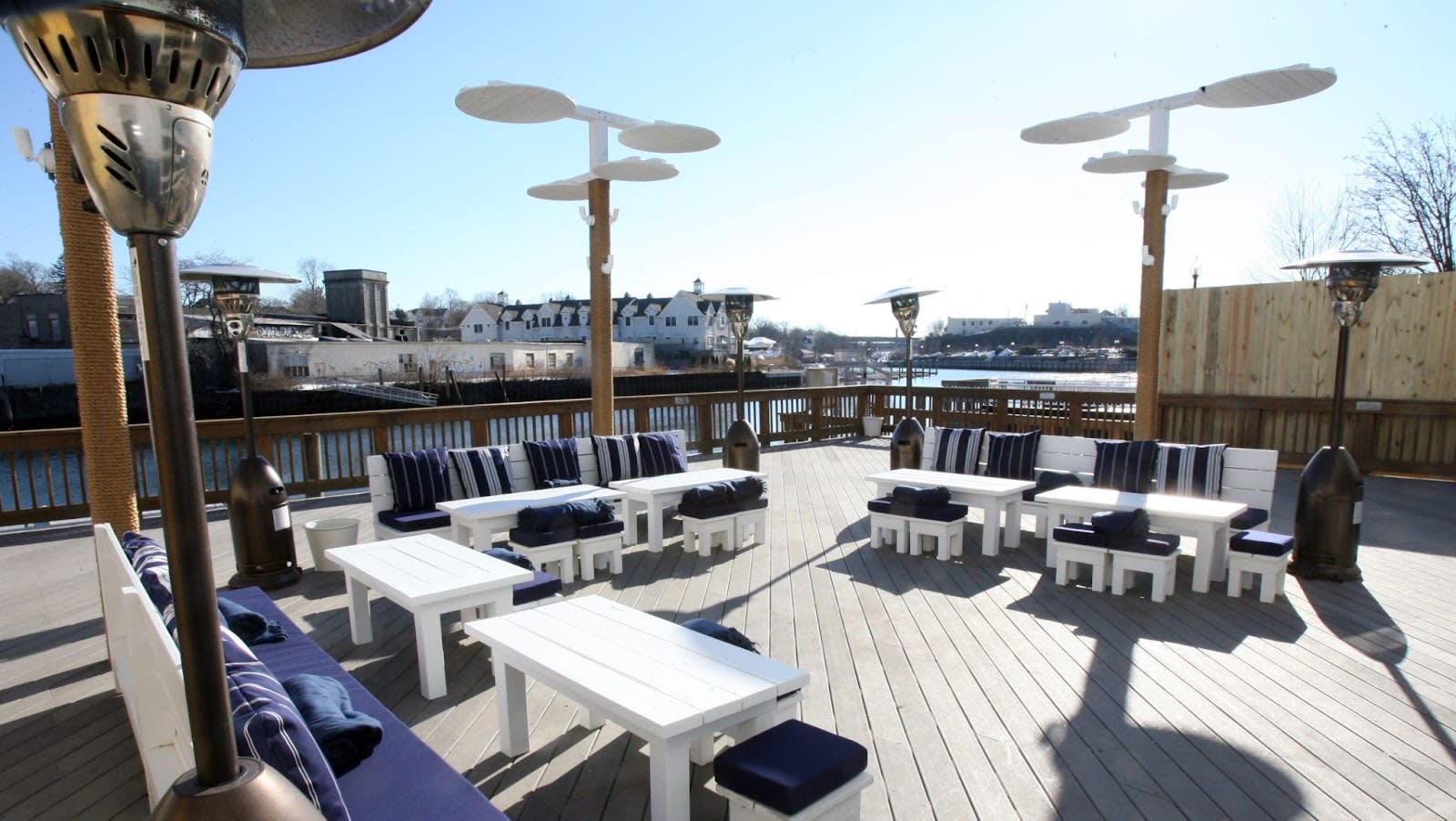 Credit: The Huffington Post
Located in Port Chester, bartaco is a popular chain restaurant specializing in flavorful, SoCal-inspired cuisine. The location in Port Chester is always busy, but the food is definitely worth the wait! The cozy, beach-themed restaurant overlooks the Byram River, offering beautiful patio views during the warmer months. With reasonable prices and a full kid's menu, bartaco is the best spot in town for quality tacos, quesadillas, and rice bowls, all made with fresh and local ingredients. The kid's menu includes fruit skewers, Oaxaca cheese snacks, and quesadilla trays that meet the flavor requirements for adventurous kids but aren't too spicy for picky-eaters.
1 Willett Avenue
Port Chester, NY
Lazy Boy Saloon
Situated along the busy Mamaroneck Avenue, Lazy Boy Saloon is a trusted destination to make every family member happy at mealtime. Outdoor seating along the avenue makes for great people-watching, and their award-winning chicken wings are perfect for the whole family to share. The menu includes plenty of kid-friendly items like fries, fajitas, and thin-crust pizzas, and Lazy Boy features over 500 craft-brewed beers for the adults. While Lazy Boy is well-known for its craft beer selection, this restaurant also features an extensive Jam Session — the longest one in the county.
154 Mamaroneck Avenue
White Plains, NY
Pop in! Play Space & Cafe
A unique setting to enjoy a family get-together, Pop in! Play Space & Cafe is anything but ordinary. As the ideal destination for younger children to engage in imaginative play with their parents, the play space offers the opportunity for parents to connect and build community while playing with their kids. It may not be a full-blown restaurant, but it's a fun destination for the whole family to enjoy playtime and grab a snack!
The space is home to dozens of play areas, like pretend kitchens, cozy reading nooks, climbing blocks, magnetic walls, and play tables. This spot also features a comfortably sized cafe to enjoy a morning coffee or a cold drink with kid-friendly snacks.
1997-1999 Palmer Avenue
Larchmont, NY
Captain Lawrence Brewing Company
As Westchester County's largest brewery, Captain Lawrence Brewing Company may not sound like the best spot to bring the whole family, but this location offers a large outdoor dining space and an excellent menu for both kids and adults. Kids have enough space to play outside while waiting for their meal (options from a designated kid's menu include hot dogs, pasta, and fruit), and parents will love the fresh specialty craft beer and seasonal sours. They even offer milkshakes, churros, and a cookie skillet for dessert.
To make your evening extra-special, reserve a spot for an outdoor fire pit experience, which includes family-style platters, enough space for 30 people, and fun winter add-ons like a s'mores kit and hot chocolate. The perfect spot to enjoy all seasons, Captain Lawrence Brewing Company is one of the best family-friendly experiences in Westchester County.
444 Saw Mill River Road
Elmsford, NY
Johnny's Pizza
Another popular pizza joint is Johnny's Pizza, a Westchester County favorite since 1942. Named for Joseph Piscopo, Johnny's Pizza is a family-owned business built on memories, dedication, and fun! Located in Mount Vernon, Johnny's is a well-loved establishment and specializes in selling whole pies, not slices, making this a great destination for the whole family to share a meal. Customers have been visiting Johnny's for decades, and the staff is so friendly; they remember everyone's name and order. If you're looking for a welcoming, neighborly spot, and are hungry enough for a whole pizza (or two), stop by Johnny's Pizzeria for the best pies in town!
30 West Lincoln Avenue
Mount Vernon, NY
Don't forget about dessert!
After grabbing a meal with the whole family at one of the above locations, don't forget to round out your experience with a special trip for dessert. Enjoy the unique frozen custard and ice cream creations at two of Westchester County's most beloved dessert destinations.
Mikey Dubb's Frozen Custard
Enjoy quirky custard creations year-round at Mikey Dubb's Frozen Custard. A delicious, family-friendly spot for the best custard in town, Mikey Dubb's offers freshly made custard, store-made Italian ice, and vegan options in a vacation-like atmosphere. Choose a seasonal favorite like pumpkin spice, eggnog, and Unicorn Vanilla, or opt for the classics. Mikey Dubb's also offers acai bowls, smoothies, hand-dipped donuts, and homemade cakes and pies. For the ultimate sugar-rush, Mikey Dubb's is a can't-miss destination for the entire family in New Rochelle!
1282 North Avenue
New Rochelle, NY
Longford's Ice Cream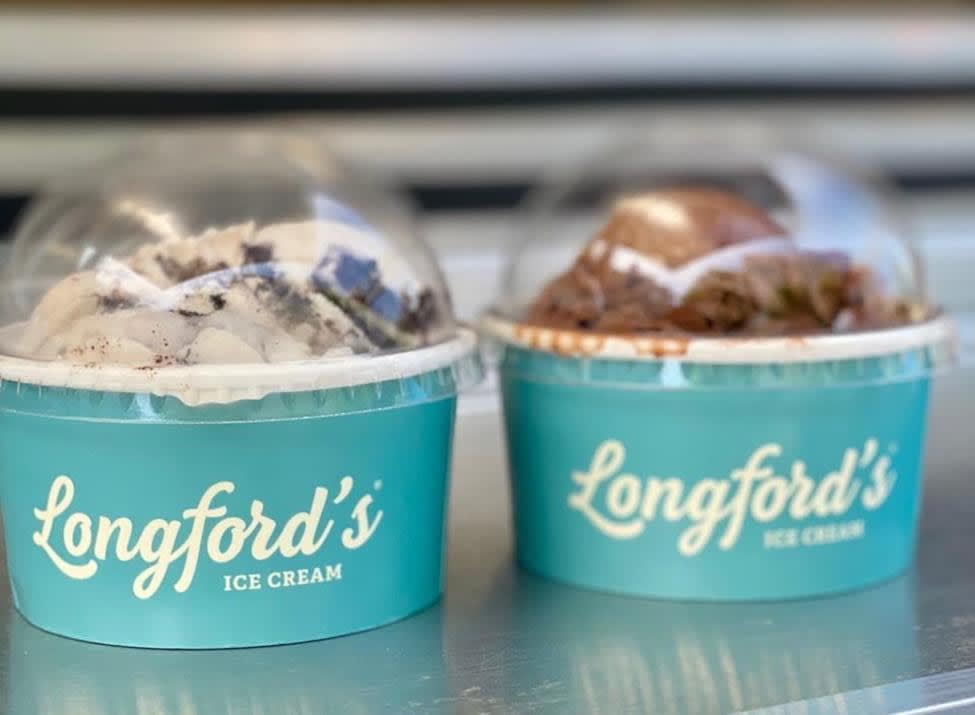 Longford's Ice Cream is a household name in Westchester County. A popular spot for families since 1992, Longford's has grown to include several shops throughout the Tri-state area and a factory in Connecticut. Handmade in small batches each day, Longford's ice cream is guaranteed to be the creamiest and tastiest ice cream around. Visit their location on Palmer Avenue for the sweetest selections and innovative creations, like build-your-own donut sundaes, bright blue Cookie Monster ice cream, and Oreo cookie sugar cones.
1941 Palmer Avenue
Larchmont, NY
With years of experience in the real estate industry and deep knowledge of luxury Westchester County real estate, The Riolo Team proudly offers a customized, personal experience, no matter your situation. Whether a buyer, seller, or landlord, your objective is their objective. Contact the Westchester County Riolo Team today to find your next luxury property!